Rice paper, or "Bánh đa nem" in Northern vocabulary and "Bánh tráng" in the South, seems infinitely familiar to every single Vietnamese. It is one of the indispensable ailments in our home-meal cookery. Accordingly, the art of making rice paper has precedingly appeared in many traditional trade villages throughout Vietnam and one of the most popular ones is Tho Ha – Thổ Hà Village.

Having existed for over 20 years by far, Thổ Hà, a village in Bac Giang Province Northeastern Vietnam, is recognized as a well-known trade village making rice paper with more than 400 families involved in. The place was inherently a pottery village back in the 50s of the 20th century and has "changed its shirt" to produce rice and rice paper since the 90s.
As being said, the village first appeared in the 12th century and got to be one of the 3 oldest pottery villages of Vietnam, besides Phù Lãng and Bát Tràng. Surrounded by Cầu River, Tho Ha soon became a bursting commercial port in the Gulf of Tonkin*. The extreme prosperity rewarded its citizens with splendid temples, pagodas, village main gate, and other magnificent buildings. Until the year of 1988 when goods made of plastic took over, the pottery village was dissolved in the lack of popularity and markets, which marked the end of its 900-year golden age. Fortunately, it seems like a good chance as it opened a new door for later generations in the village. They started making different kinds of rice paper and noodles from rice flour.
Frequently, rice is soaked for one night and grounded in the next morning. It then gets spread on a large pan and dried on a bamboo wattle where it takes 2 to 3 hours to get done. Simple as it sounds but the quality depends much upon the craftsmen's experience, especially for the soaking and spreading technology. In addition, the weather is another important factor that should be taken into account. Heavy rain can make the rice papers fusty and excessive sunlight will turn them to be crunchy and easily – broken. Rice paper is considered in good quality when it reaches the status of softness, tough, thin, unbroken and light salty.
Nowadays, given high technology with electric devices, labor productivity is much increased to 3 or 4 times. Besides appearing in the inland market, products of Tho Ha are exported to Taiwan, South, Korea and Japan with high popularity.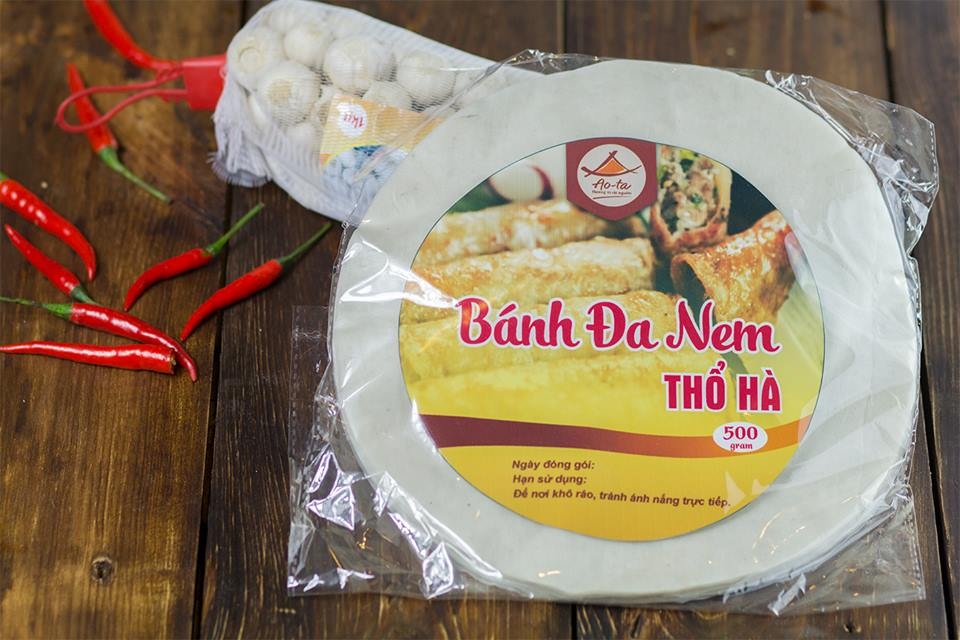 *Gulf of Tonkin: given name for Northern Vietnam, as called Vịnh Bắc Bộ in Vietnamese, along with Annam (Central Vietnam) and CochinChine (Southern Vietnam). Tonkin is the French pronunciation for Đông Kinh in Vietnamese.