To start off, breathtaking as scenery in Dien Bien may seem, you better off reading up to prepare your trip worthwhile. It is widely known that Điện Biên is the province where the First Indochina war took place and where legends of history live on. The humiliating defeat against French army was not only a turning point for Vietnamese on their way to victory but also a source of inspiration for national liberation the world over. Are you ready to make your way to this stunning battlefield? Then follow us now!
How to get to Dien Bien?
Where to stay in Dien Bien?
Places to Visit in Dien Bien
Hill A1 (Đồi A1)
Hill A1, also known as Eliane 2 named by French Colonel de Castries, occupies the centre of Dien Bien town. This entrenched fortification was considered at the top list French group of fortresses. Stretching from the North West to the South East, Hill A1 consists of two tops: Tây Bắc (490m) and Tây Nam (493m). Back in the day, a monument has been built and the remnant of tanks is displayed on the hill in remembrance of the fascinating history. Especially, you can easily realize that there is a hole atop Hill A1 – which is a result of a massive explosion in Dien Bien Phu battle. This turned out the most popular tourist attraction to people who ever set foot on Dien Bien – the marvelous battlefield.
As a matter of fact, nothing at this site is written in English, so you may face some difficulties during your visit. Therefore, please make sure that you have read about the Dien Bien Phu victory to have an insight in the history and learn about the place. Besides, a qualified tour guide is highly recommended to make your trip a better one.
Adress: Muong Thanh precinct, Dien Bien province
Bunker of Colonel de Castries (Hầm Đờ Cát)
You might be impressed by how effectively the French placed themselves - in the bottom of a bowl as Điện Biên Phủ is surrounded by hills. As it is so clear to be seen that France has a powerful military compared to that of Vietnam, and there was a big gap between the military skills of two sides. But the interesting fact is that Vietnamese people did snatch victory from the jaws of defeat, which enormously influenced negotiations over the future of Indochina at Geneva. That must have stemmed from an incredible strategy in which spirit and determination are the most influential factors leading to the winning of the weaker military force. For a long time passing by, the bunker has more or less remained its original appearance. Although at first, it was made of bamboo, bricks, and sand, nowadays, it has been reconstructed all in cement for the sake of tourist's safety.
Keep in mind that all information is given in French, so unless you know that language or have a tour guide who is excelled at both languages, you may hardly understand about the information provided.
Address: Muong Thanh precinct, Dien Bien province
Entrance fee: 15,000 dong/ person
Dien Bien Phu Museum (Bảo Tàng Điện Biên Phủ)

The museum was constructed in 1984 in celebration of 30 years anniversary of Dien Bien Phu victory. It was once restored in 2003 and upgraded the exhibition area. Up till now, the museum has accumulated a great number of items: 274 objects and 122 pictures relating to these topics: strategic location, group of fortresses, policy, influence and Dien Bien Phu nowadays. If you wish to have a closer look at the place where the glorious battlefield was held, this place can not be missed.
Address: Neighborhood 1, Muong Thanh precinct, Dien Bien province
Opening hours:7:00 am – 11:00 am; 1:00 pm – 5:00 pm
Entrance fee: 5,000 VND/ person
Uva Hot Spring (Suối Khoáng Nóng UVa)

About 15 kilometers away from the town center, Uva hot spring is highly recommended as an undisputed highlight of your trip to Điện Biên. With such spectacular mountainous scenery and boiling water from 74 to 84 degree C, this hot spring offers you a wonderful chance to put your feet up. Noticeably, it has been proven that  you will find it therapeutic while soaking in the water. So why don't you pay a visit to such a nice place like this?
Adress: Noong Luong Commune, Dien Bien Province
Pha Din Mountain Pass (Đèo Pha Đin)

Pha Din mountain pass is 32 km length, steep with many sharp bends, which seems risky even to the real backpacker. But trust me, after a long way struggling to reach the top, you will come across plenty of wonderful landscapes. On the upper slope, you may find it fantastic to be shrouded in a thick blanket of fog contemplating Muong Quai valley and little villages downhill. From the top, the scenery below is almost impossible to be seen and you are gonna be impressed by the panoramic view of the distant horizon
Adress: Ta Phin highlands
Muong Phang cherry blossom garden
The garden is ideally located on the island right in the middle of Pa Khoang lake. The cherry blossom flowers, considered a promotion to the close friendship between Japan and vietnam, are mostly in full bloom in February and remain brilliantly- coloured in the next three weeks.  So it is just perfect for people who are on the lookout for the romantic atmosphere. Not only will you be succumbed to its natural charm but you will also get allured by the delicate fragrance of cherry blossom.
Adress: Pa Khoang Lake, Muong Phang Commune, Dien Bien province
---
Nightlife in Dien Bien
As a matter of fact, there is a limit on the number of nightlife activities you can find in Dien Bien, but we can come up with the best offer for a night out. I guarantee that this suggestion is worth a try, so why don't you make a night of it?
Muong Thanh Night Market
Constructed as the first night market in Dien Bien, Muong Thanh is expected to be the center of attraction. The first time they open the market, it has achieved a fascinating outcome – millions of tourists and local people visited the place. Located on Nguyen Chi Thanh street, Muong Thanh night market stretches 580 meters long and occupies five neighborhoods. It is held daily from8 p.m to 11 p.m to meet the demand for food and shopping. There is no entrance fee, but you should be sure about your budget because you cannot resist the overwhelming temptation to waste your money on unique traditional local clothes, nice souvenirs, ornamental plants and mouth-watering aroma from tasty dishes. Food must be the most alluring part during your visit to the market. Favorite snacks, ethnic cuisine, some special delicacies are now on offer to satisfy your appetite. All in all, it is an ideal option for a family's night-out to join in Dien Bien upbeat atmosphere.
---
Foods to eat in Dien Bien
As it is clear to be seen that your trip cannot go without trying some good food, let Điện Biên allure you with its superb cuisine. Featured and thoroughly made by the ethnic minorities, these food are impressive enough to linger over your meal.
Cheo (Chẳm Chéo)
This might be one of the foods that remind you the most of Dien Bien after you leave this place. Cheo is widely known as a legendary ingredient to any local people here. To be more specific, it is mainly made of a kind of wildflowers which has attar and delicate fragrance. Thanks to a perfect combination with dried chili, fried salt, chopped parsley and citronella, Cheo is commonly eaten with food such as sticky rice, meat or even roasted fish which make you want more.
Nuong sticky rice (Xôi Nếp Nương)
Honestly, sticky rice may sound familiar to anybody who set foot on Vietnam but Điện Biên nuong sticky rice is something that cannot be found anywhere else. Although it is commonly known that rice grown in the Northwest of Vietnam is among the finest ones, Nuong glutinous rice is on top of this list – creamed and rich in nutrition. To turn this special ingredient into a perfect dish, it takes the local people a long time to prepare and go through a complicated process of cooking. The rice is soaked in water for hours in order to make it more tender. Then, it is formed in a special utensil provided by the ethnic minority and cooked twice. After that, the dish might be decorated with colorful vegetable to look elaborate. The pleasant taste you find when enjoying this dish may not only stem from the complexity of the whole cooking process but also from the local people's extraordinary skill and love for traditional cuisine.
Buffalo bacon (Thịt Trâu Gác Bếp)
Among a wide range of food Dien Bien has to offer, Buffalo bacon might draw most of your attention. Buffalo bacon was traditionally used in formal meetings or to serve honored guests but now, you have a chance to have a try because they are all available in restaurants. People who process this kind of food must be really careful in removing all the veins and adding flavors. The meat is required to be tender and juicy enough to eat. On the whole, fresh meat in combination with carefully collected ingredients is a great dish that you should have a try.
Ban vegetable (Rau Ban)
This kind of vegetable is fully grown in March – the most beautiful moment when the entire province is filled with the white color of ban vegetable. A daily meal of local people cannot be lacking in this vegetable as they use them to create a wide range of good food. Although each food is mainly from ban vegetable, they have their own appeals – easy to eat and really delectable.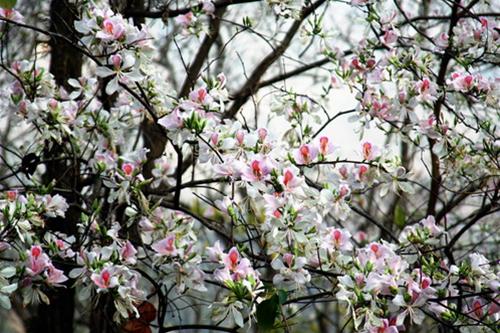 Suggested restaurants and cafes
Duc Hieu restaurant
Address: Doi 3, Cong Hoa, Thanh Luong commune, Dien Bien province
Tel: 0230 3827581
Huong Dong Noi restaurant
Serves good food at reasonable prices but it might be quite crowded in the evening, so make sure that you arrive early enough to save a place.
Adress: Near Muong Thanh bridge, Dien Bien province
Tel: 0230 3735268
Price range: 100 000 VND – 440 000 VND
Nga Luan restaurant
Adress: 81 Nguyen Chi Thanh, Dien Bien province
Tel: 0230 3827117
Yen Ninh restaurant
Adress: 257 Group 9, Tan Thanh commune, Dien Bien province
Café and Boba
After a long way traveling, you may need time to sit still and enjoy the panoramic view of the lovely province. Therefore, a visit to a nice café may make your day. Besides, your trip should not go without grabbing a boba (bubble tea) – a trendy drink in every Asian country. So just find time for these beverages and have fun contemplating the whole town.
*QA Café
Address: 1 Duong Lang, Tua Thang commune, Tua Chua District, Dien Bien province
Opening hours: 06:00 am - 11:00am; 02:00pm - 11:00pm
Price range: 5 000 VND – 50 000VND
*Ca phe 56
Address: 133 Truong Chinh, Dien Bien province
Opening hours: 07:00 - 23:00
Price Range: 20 000 VND – 170 000VND
*Ding Tea – Boba
Address: 98 Hoang Cong Chat, Muong Thanh commune, Dien Bien province
Opening hours: 7:00 – 22:00
Price range: 30 000 VND – 50 000 VND
Suggested itineraries
One day in Dien Bien
You are on your trip to Dien Bien but only have a day to explore?
7:00 AM: Arrive at your hotel or guest-house and check in
7:30 AM: Have breakfast at your place if possible. Or you can check out some local restaurants listed above.
8:30 AM: Ask if your hotel or guest house cater for tour guide service because nothing in the site you are going to visit is available in English so you may encounter a bunch of language barrier problems.
8:45 AM: Visit Hill A1, get to know some information and historic value on Dien Bien Phu Victory battlefield.
9:30 AM: Go to Dien Bien Phu museum ( 450m away from hill A1, just within walking distance) and take a closer look at the items that are demonstrated to have a closer look at the place where the glorious battlefield was held.
11:00 AM: Get to Dien Bien Phu military commander (1,1 km, takes 14 minutes if walking), buy a ticket and explore the remaining historic site. You also have a chance to visit the bunker of Colonel de Castries – a significant historic place in Dien Bien Phu city. You can read more about this place above to have an overall look at this place.
11:45 AM: Back to your hotel, rest yourself and have lunch.
2:00 PM:  Pay a visit to Pa Khoang lake to appreciate nature and go for a stroll under canopies of cherry blossom trees.
3:00 PM: Get to Uva hot spring to soak your body in boiling water and put your feet up.
5:00 PM: Pop into Xá nhè bazaar, get to know some time-honored custom and buy some souvenirs.
6:30 PM: Have dinner at some recommended restaurant to have an idea of local taste.
7:30 PM: Get back to the hotel, have a shower, change clothes
8:00 PM: Go out for a walk in the city center, breathe in fresh air and maybe take a sip of coffee
Two days in Dien Bien:
Day one: same as One day in Dien Bien
Day two:
6:00 AM: Wake up early, fill your stomach with good food and be ready for your journey to Pha Phin pass.
6:30 AM: Hire motorbike and someone to lead the way if possible. Then get to Pha Phin pass – one of the most impressive passes in the North West area. Be careful when driving because there are many sudden turns on the way. When reached the top, take time to relax and admire the dazzling scenery.
10:00 AM: Back to hotel and have lunch
1:00 PM: Visit Muong Thanh paddy field – the biggest one in North West area.
1:40 PM: Get to Muong Lay lakeside city to know more about local lifestyle
3:00 PM: Hua Pe hot spring is a nice destination to put your feet up after a tiring day.
5:00 PM: Get to Bản Mển community and acquire some more knowledge about the local embroidery culture. You can also have a bite here because they serve a wide range of local food.
8:00 PM: Return to your hotel and be ready to wander around the city.
8:30 PM: Find some unique snacks in the city and have fun enjoying the panoramic view of the entire city