WELCOME TO NORTHERN VIETNAM!
Northern Vietnam is the oldest region of the three regions in Vietnam. It is also the very first place where Vietnamese culture started to bloom out.
Northern Vietnam consists of 3 sub-regions named Northwest, Northeast and Red River Delta, and there are 25 provinces in Northern Vietnam in total.
Northern Vietnam has been impressed by not only the locals but also foreign tourists because of its challenging routes up to the limestone mountains, eye-catching paradises of green and yellow terraced fields, hundreds of must-visit sight-seeings throughout the region, thousands of delis and much more!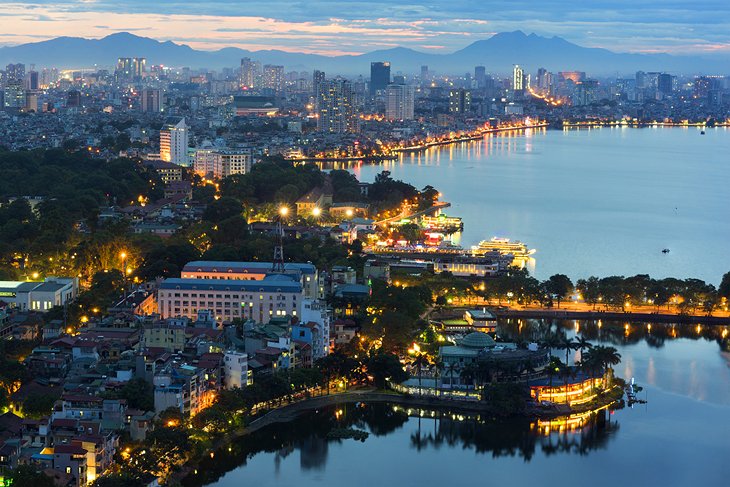 If you visit Northern Vietnam, Hanoi might be the first stop on your list! Check Maze Hanoi Travel Guide out to see all the modern and ancient things getting mixed all in one urban city. Visit Maze Sapa, Maze Quang Ninh, Maze Ninh Binh, Maze Ha Giang, Maze Yen Bai, Maze Nam Dinh to explore such interesting features in some provinces out of Hanoi. All of them are comprehensive travel guide posts written by enthusiastic local insiders providing tips and advice on accommodation, places to go, food to eat and all the hidden gems hardly found on other travel guide books on earth!
Here is all the selected guide content of all the highlights pinned on the Northen Vietnam map!
Hanoi, the capital of Vietnam, is the country's second largest city. This charming capital is known for its centuries-old colonial architecture and its reflection of Asia's rich cultures.
Why don't you get lost in the Old Quarter, chill out in the West Lake, pay a visit to hundreds of temples and a variety of historic sites in Hanoi? Read more here
Located in Lào Cai, Sapa, an upland town, embraces a number of natural wonders that one could ever explore. From December to February, Sapa is covered with ethereal fog and white snows that will altogether create such subtle scenery. For those who are fond of exploring and trekking, it is advisory to visit Sapa at the end of May (when the stream goes along the field – mùa nước đổ) or around September (Golden Grain Season) to catch a sight of the endless yellow terraced rice fields. Read more here
Quảng Ninh at the first impression completely attracts the beauty lovers with the famous Hạ Long Bay, Tuần Châu Island and other wonderful destinations. Not only does the land bring us its unique and outstanding features of the landscapes but it also creates its own characteristic of Northern cuisine.  Read more here
Regarded as "Ha Long on land", Ninh Binh has made its appearance in some of the very famous Hollywood blockbusters such as Pan and the Neverland or Kong: Skull Island. More than 1.5 hours by car from Hanoi, Ninh Binh has attracted hundreds to thousands of visitors worldwide. Read more here
Known as the head of Vietnam, formed with such complicated terrain, Ha Giang divides itself into 3 main areas: High land of the North, mostly karst mountains; High land of the west, mostly soil mountains; And the low hill-land where stands Ha Giang provincial city. Thus, the diverse nature here can make any visitors breathless; every hill, every stream, every forest in Ha Giang created the greatest masterpiece the world that all should ever know. Read more here
Mai Chau is a town in Hoa Binh Province located in Northwest region of Vietnam. Technological advancement comes with a price. It always feels like there is something missing from our daily lives. Deep down inside, we yearn for an escape, away from the daily grind, away from the draining cycles from which there seems to be no escape. Let the forces of nature ease your soul, let yourself wander into the wonderful valley of Mai Chau. It will be a journey to remember. Although Mai Chau is a wonderful place all year round, it is best from November to February – when the beauty of this valley is in full bloom. Remember to pack some sweaters or jackets if you are going at that time as it gets cold. Also, insect repellant might prove especially useful to you because mosquitoes are everywhere. Read more here
Dien Bien is a border province located in the North West mountainous area, owning a great deal of traces which remind us of the glorious old days. Dien Bien, in fact, is not immensely a popular place that is often offered in a travel brochure. Dien Bien is not something that you will see in modern-day advertisements, free leaflets or flamboyant posters. This is where you can enjoy Vietnam's communist revolutionary music or read about the renowned Dien Bien Phu victory. Read more here
Even if you are finding a little bit tired of the tropical wet monsoon climate in Hanoi or you are aspiring for a more thrilling trip than wandering through quiet streets in the capital city, here is the ideal destination for you. Last but not least, don't forget to visit Yên Bái around May and June, or September and October if you don't want to miss the exotic beauty of this land during harvest crops. Read more here
Nam Dinh city embraces both of the modern beauty and the charm of nostalgia while the districts have many handicraft villages. Known as the downtown of Nam Dinh province with malls and entertaining centers, there are more to discover in this place which was once the most animated city of Vietnam. Read more here